SirJeff's Ponygirls Website History:
Welcome to my ponygirl website.
---
June 27, 2011:




This update's headline art, "Polish Lancer" is by new Contributing Artist Mike Powell. And this update's back cover art, May Flowers Capped, is by Contributing Artist Synthean. Both are commisioned by long time fan Ben Fann, and the little story is also by him.
A story, The Wheels of the Bus, by Contributing Author George inspired by the previous updates headline art by Contributing Artist Shorterbus.
More of a story, Jen, a Pony-Girl Story, by Contributing Author Broadsword.
Another story, Kidnapped and Ponygirl Trained, by Contributing Author Sarah.
A different excerpt from Arabella's Web, by pwm21.
Ten more pictures courtesy of ponygirl wild-passion.
Some amazing pictures and art I found by andrey-razoomovsky.
Sixteen pictures courtesy of Bloodangels.
Sixteen pictures courtesy of Pet and Ponygirls.
An introductory taste of the art of Collon Durand. There will be more in future updates.
This update's youtube vid shows Education Anglaise.
This update's second The Perils of Gwendoline starring actress Tawny Kitaen
.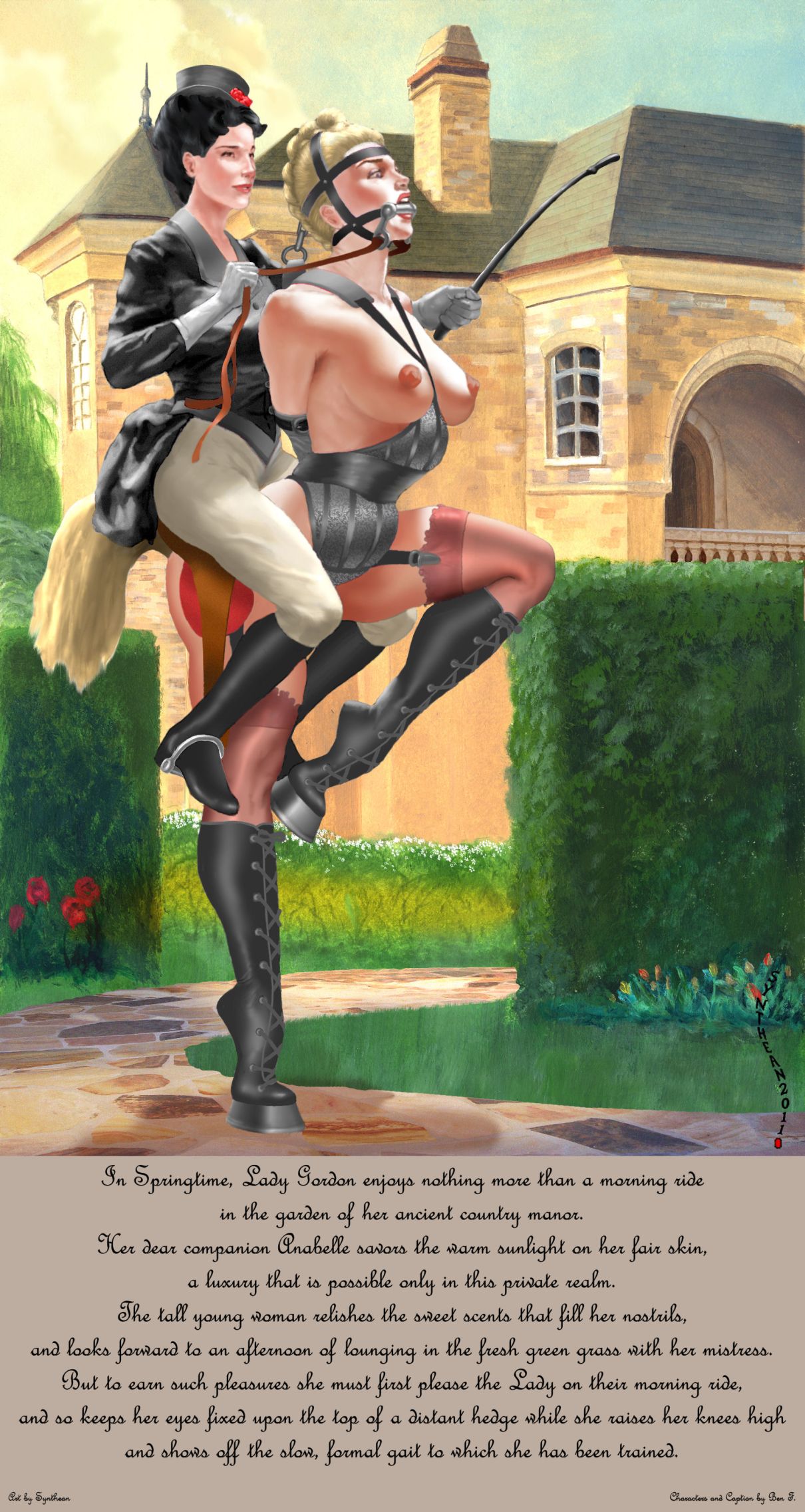 ---

Go to older history:
Apr. 2011
Feb. 2011
Jan. 2011
Dec. 2010
Nov. 2010
Oct. 2010
Sep. 2010
Aug. 2010
July 2010
June 2010
May. 2010
Apr. 2010
Mar. 2010
Jan. 2010
Dec. 2009
Nov. 2009
Oct. 2009
Sep. 2009
Aug. 2009
July 2009
June 2009
May 2009
Mar. 2009
Feb. 2009
Jan. 2009
Dec. 2008
Oct. 2008
Sep. 2008
Aug. 2008
July 2008
June 2008
May 2008
Apr. 2008
Mar. 2008
Feb. 2008
Jan. 2008
Dec. 2007
Nov. 2007
Oct. 2007
Aug. 2007
July 2007
June 2007
May 2007
Apr. 2007
Mar. 2007
Feb. 2007
Jan. 2007
Dec. 2006
Nov. 2006
Oct. 2006
Sep. 2006
Aug. 2006
July 2006
June 2006
May 2006
Apr. 2006
Mar. 2006
Feb. 2006
Jan. 2006
Dec. 2005
Nov. 2005
Oct. 2005
Sep. 2005
Aug. 2005
July 2005
June 2005
May 2005
Apr. 2005
Mar. 2005
Feb. 2005
Jan. 2005
Dec. 2004
Nov. 2004
Oct. 2004
Sep. 2004
Aug. 2004
July 2004
June 2004
May 2004
Apr. 2004
Mar. 2004
Feb. 2004
Jan. 2004
Dec. 2003
Nov. 2003
Oct. 2003
Sep. 2003
Aug. 2003
July 2003
June 2003
May 2003
Apr. 2003
Mar. 2003
Feb. 2003
Jan. 2003
Dec. 2002
Nov. 2002
Oct. 2002
Sep. 2002
Aug. 2002
July 2002
June 2002
May 2002
Apr. 2002
Mar. 2002
Feb. 2002
Jan. 2002
Dec. 2001
Nov. 2001
Oct. 2001
Sep. 2001
Aug. 2001
July 2001
June 2001
May 2001
Apr. 2001
Mar. 2001
Feb. 2001
Jan. 2001
Dec. 2000
Nov. 2000
Oct. 2000
Sep. 2000
Aug. 2000
July 2000
June 2000
May 2000
April 2000
March 2000
Feb. 2000
Jan. 2000


---